By my blog name you might assume that I'd write about a desert state. In fact, my husband and I have been living in Santa Fe, New Mexico for close to a year. But no, I am here to write about the best state in the union, the state of my birth, the only state with a monosyllabic name: Maine.
Specifically, the town I grew up in is called Cooper, with a population of 140 people. The county itself, Washington, is the most easternmost the state (and I believe in the country). The area is called "Downeast Maine" by locals. It encompasses over 2000 square miles and yet only has a population of 30,000 people or so. The house I grew up in was located at the end of a four-mile dirt road directly on one of the cleanest lakes in the state, meaning that my summers were filled with nonstop swimming and my winters with ice-skating, sledding, and snow. The town I am from, and all the towns around it, are so tiny that when anyone asks where I'm from--even other Mainers--I have to tell them the name of my county rather than the town, and I have to give the distance to other, bigger towns (always in time, not miles...that's the rural way). Even then they're often scratching their heads.
Washington County abuts New Brunswick, Canada and shares part of Maine's beautiful rocky coastline. Even from the time I was born the ocean was already old hat to me and my sisters because we'd visit it often.
We encounter all four seasons in Maine--most notably winter, with its grueling length, waist-high snows, and blistering wind. The trees in autumn are stunning, but only for a two or so week period before winter truly sets in (so get here early, leafers!). Summers are mild, with maybe a few days of 90 degrees, some sun and some rain, and lots of beautiful green leaves and stunning blue skies. Spring is full-on mud season and you can still expect a few blizzards even into late May.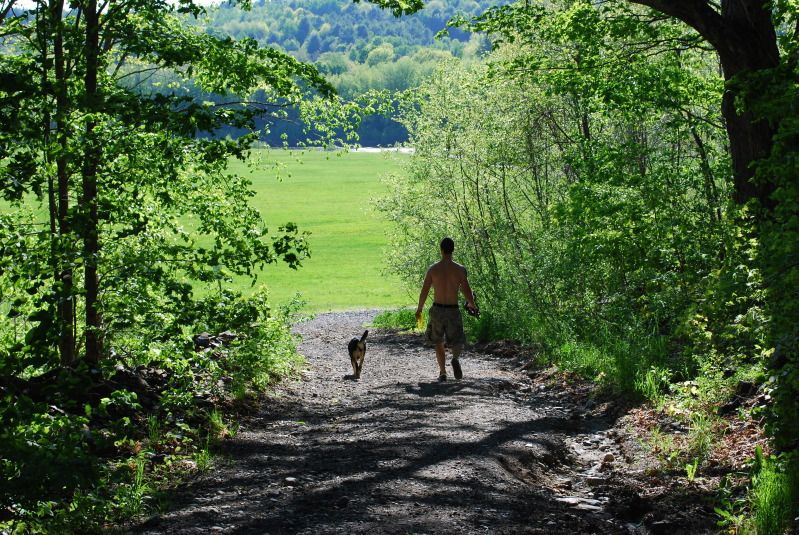 When I tell people I'm from Maine the reactions are mixed; a lot of people tell me that they've been to every other continental state except for Maine, or that they've always wanted to go, or that they're surprised it's actually a state and not just part of Canada. Most people mention Stephen King (yes, he lives here, yes, I've met him, and yes, every kid drives by his house at some point or another) or moose (we have lots of them but do not ride them) or lobster (I hate it). Some people mention the accent, which I usually will do for them. It's kind of a less-educated-sounding version of the Boston accent (think John F. Kennedy).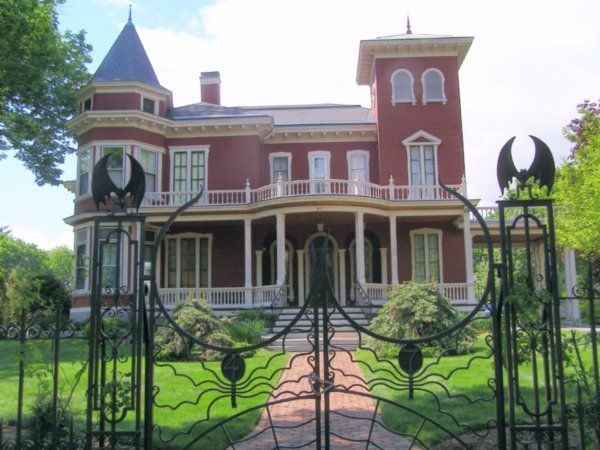 Stephen King's House. (source)
My dad's backyard.
One of my favorite things about Maine is that the entire state is basically one big small town. Even though it's relatively large size-wise, you'll usually find someone who knows someone you grew up with and so forth. Murders, which are somewhat rare, are statewide news for months. A member of the community who falls on hard times can almost always find universal support from their neighbors; as a child I developed a malignant tumor in my kidney, and several towns held benefit suppers or just handed my parents money. My least favorite thing is probably the winter, but if you're tough enough and bought enough booze before the blizzard you're usually fine.
To summarize, I think there's a reason that our state's tagline is "the way life should be."
Some towns to visit if you're interested:
1. Portland. Yes, Maine, not Oregon. We were the first. Portland is Maine's biggest city with an urban population around 70,000. It's right on the water with a gorgeous truly New England downtown, lots of amazing restaurants that cater to different diet choices, lots of lobster, museums and other historical locations, and just good gorgeous ocean views.
2. Bar Harbor. Bar Harbor is kind of like a sanitized version of Washington County, in that it has a nice "small town" feel with the amenities of a more tourist-oriented location. There are millions of whale- and seal-watching tours, lots of yummy and somewhat decently-priced lobster, and beautiful, old bed and breakfasts.
3. Eastport. Eastport is in Washington County, and is the town I was married in! It's a nice alternative to the above choices, which can be pretty crowded with lots of people in the summer. There are gorgeous ocean views, a few yummy restaurants, and is a real-life authentic small town. It's about a 5-6 hour drive from the border though, so plan well.
4. Farmington and Carrabassett Valley. If you're into skiing or snowboarding, Sugarloaf Mountain in Carrabassett Valley is a pretty great place to go. Farmington is a cute little town nearby where a lot of people stay on the way there. Neither of these places are by the ocean, so you get a bit of a different feel.
5. Old Orchard Beach. If you want to see an actual white-sand beach and water you can swim in, check out Old Orchard Beach. There's some jet stream blah blah science that makes the ocean water in this part of the state warmer than in the east. There's also a cute boardwalk with some little rides, making this a pretty popular place for people with kids (and people from Quebec, interestingly).
6. Bangor. The only real reason you'd want to go to Bangor if you don't live in Maine is because Stephen King lives there. You're welcome.
Also, we have our own song to remember our counties! I found this video for you:
You only have to listen to the first 20 seconds or so.
Anyway, thanks for reading this missive, particularly if you made it all the way through. I hope you all get to experience Maine at one point or another.
--
I am still looking for people in several states to guest post for my 50 Nifty United States feature. Please click here to see if your state, or one you've visited/lived in, is still available!